Obamacare's mandate to buy insurance: Is it an eat-your-broccoli sort of thing?
(Read article summary)
Federal Judge Roger Vinson adds some color to the debate over the individual mandate in the health-care law. He likens it to Uncle Sam telling everyone to eat their vegetables -- under penalty of law.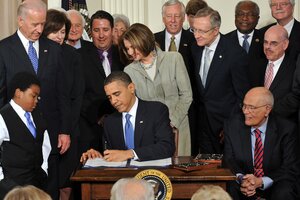 KEVIN DIETSCH/UPI/Newscom
A court judge need not be as dull as vegetables.
Take US District Judge Roger Vinson of Florida. During a hearing Thursday on whether the Obama health-care law should be able to force people to buy insurance, he wondered aloud if such laws might someday also order people to eat a vegetable everyday in order not to become a health burden on fellow citizen.
"If [the federal government] decided everybody needs to eat broccoli because broccoli makes us healthy, they could mandate that everybody has to eat broccoli each week?" he told lawyers defending the Affordable Care Act, which was passed last spring.
He also challenged another basic premise of the law – that everyone without health insurance would inevitable use the medical system without paying the cost.
Judge Vinson cited his own case of shelling out money for the cost of his first son's birth at a hospital.
"I think it worked out to be $100 a pound," he said.
Such humor and everyday language is quite rare in legal decisions. Let's hope his final ruling on the health-care law is as clear and commonsensical as his courtroom utterances.
---