How history might really be made in Egypt
(Read article summary)
Yes, the power of ideas such as freedom drives the protests in Egypt. But a surprise glitch might bring down Hosni Mubarak, as it did Ferdinand Marcos in the Philippines.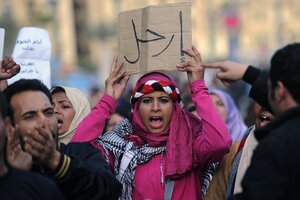 Hannibal Hanschke/dpa/picture-alliance/Newscom
Anyone watching the protests in Egypt might want to remember this old saw of history: For want of a nail, a kingdom was lost.
Unexpected events often do suddenly create a surprise tipping point during a political or military struggle. It's still unclear, for example, whether an American minuteman or a British soldier fired the first shot at the Battle of Lexington on April 19, 1775, launching the American War for Independence. And Richard Nixon might have served out his second term had a security guard at the Watergate Complex not noticed tape on the doors, left to leave them unlocked during a night burglary on June 17, 1972.
A similar serendipitous act may yet influence events in Egypt. An Army tank's engine might backfire, for instance, setting off a riot. A statement from President Obama might be mistranslated into Arabic, forcing a mistake by Hosni Mubarak.
My own experience with one of history's fluky moments occurred during the "people's power" revolution against Ferdinand Marcos in 1986. I happened to witness the real reason that this long-time dictator was forced to flee.
Yes, the pressure was on him to leave. Thousands of Filipinos were in the streets during the four-day revolution, surrounding rebel soldiers in Camp Crame, a military base near Manila. Yes, everyone knew Marcos had rigged an election to claim victory over Corazon Aquino.
---