Among allies, Germany is the odd man out in UN vote on Libya
(Read article summary)
Germany sided with Russia and China as it abstained from the UN Security Council vote to take "all necessary measures" to protect civilians in Libya. Berlin took the decision that would be most popular at home. Politicians do such things. But Germany's allies certainly notice.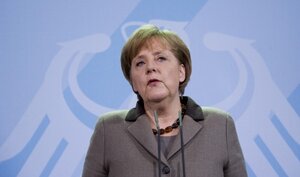 Credit: Johannes Eisele/AFP/Getty Images/Newscom
No one was surprised that Russia and China abstained from the United Nations Security Council vote for a no-fly zone in Libya. But Germany?
Actually, Berlin had been signaling for days that it would not go along, but still. Germany is one of America's closest allies. In this vote, Europe's biggest democracy stood alongside authoritarians and developing nations, not with its freedom-loving partners, Britain, France, and the US.
It had plenty of international cover to vote "yes." The Arab League supported the UN resolution, which is meant to avert a bloodbath in the rebel stronghold of Benghazi. The European Union also endorsed the resolution.
The German exception was all the more remarkable because of this: Berlin lobbied hard for its two-year seat on the Security Council, which began Jan. 1. It gave the impression that it would be ueber responsible, that this stint was a dry run in a bid for a permanent seat.
---