Strauss-Kahn arrest: End of the French media taboo?
(Read article summary)
The arrest of French presidential favorite Dominque Strauss-Kahn on sex-crime charges is causing some French journalists to rethink the taboo on coverage of the private lives and loves of powerful figures. Private should not always be private.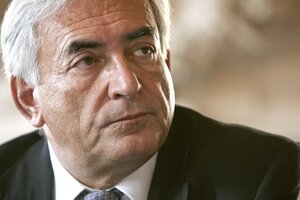 (Credit: Mousse/MCT/Newscom/file)
Will sex-crime charges against a favorite for the French presidency undo a media taboo on the sexual escapades of the French elite?
Dalliances among the powerful are a nonstory in France. For one thing, strict libel and privacy laws discourage such media coverage. For another, infidelity is believed to be so common as to be a waste of reporter shoe leather. Perhaps more important, though, is the French attitude that affairs of the heart (or otherwise) are unrelated to affairs of state. They are private matters of no public consequence, and should be of no interest to the media.
Then along comes the case of Dominique Strauss-Kahn, the chief of the International Monetary Fund (IMF). He was expected to soon announce his candidacy for the French presidency, and to win. But he was charged on Monday with attempted rape and other crimes related to a maid who came to clean his suite at the Sofitel Hotel in New York on May 7. (For the Monitor's editorial on Mr. Strauss-Kahn, click here.)
The French media have long known of Strauss-Kahn's penchant for women. But they paid little heed until an investigation in 2008 of his affair with an IMF subordinate, a Hungarian economist named Piroska Nagy. The affair was found to be consensual, but to have shown poor judgment. The admired leader of the IMF apologized. End of story.
---