Europe's triumph in the arrest of Ratko Mladic
(Read article summary)
Serbia's desire to join the European Union was probably a big reason for the capture of Ratko Mladic, the most-wanted man for the Srebrenica massacre. The EU's values triumphed over extreme nationalism.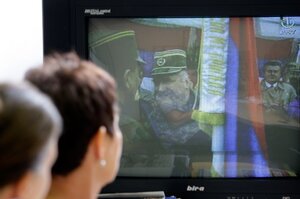 (Credit: AFP photo - Elivs Barukcic - Newscom)
A diverse Europe has long struggled to end its history of ethnic and religious violence. The European Union was created just to do just that. On Thursday, the continent may have reached a moment of triumph with the capture of Ratko Mladić.
The former commander of the Bosnian Serb army was the most-wanted man behind the 1995 massacre of about 8,000 Muslims in Srebrenica. With his arrest in Serbia (and coming trial before a Hague tribunal), the war-ravaged Balkans could now be better prepared to accept long-term peace.
The countries that once made up the former Yugoslavia were the last corner of Europe still prone to large-scale ethnic or religious violence. The victims of the Srebrenica massacre – the largest in Europe since the Holocaust – have to be given justice if the Balkans are to find peace.
---