Keeping on with the work of a slain journalist in Pakistan
(Read article summary)
At today's funeral for slain reporter Syed Saleem Shahzad, his fellow journalists in Pakistan vowed not to be silenced. A report from the Committee to Protect Journalists shows how hard that is when media deaths are treated with impunity.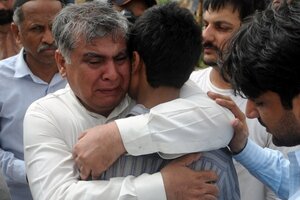 Credit: RIZWAN TABASSUM/AFP/Getty Images/Newscom
At today's funeral for a slain Pakistani reporter, journalists vowed to keep on with the hard-nosed coverage that the reporter, Syed Saleem Shahzad, was known for. "We will not shut our voices down," said Azhar Abbas, a high-profile Pakistani journalist. "The journalist community is united on this. We will not stop."
That is a courageous declaration, a potentially self-sacrificial one in a country such as Pakistan. In 2010, Pakistan had the highest number of journalist deaths in the world – eight, according to the Committee to Protect Journalists in New York. The committee calculates a global "impunity index" of unsolved murders of journalists. In its updated index, published today, the report finds that "deadly, unpunished violence against journalists often leads to vast self-censorship" in the press corps.
It's not known, and may well never be known, who was behind the apparent torture and killing of Mr. Shahzad, who was the Pakistani bureau chief of the Asia Times Online website. He covered terrorism, and in 2006 was held for several days by the Taliban in Afghanistan. But the Associated Press reports that Shahzad had told Human Rights Watch he feared that Pakistani intelligence agents were after him.
---