How Kevorkian and assisted suicide fit into America's mixed moral landscape
(Read article summary)
A recent Gallup survey of hot-button cultural issues such as doctor-assisted suicide, abortion, gay relations, and pornography reveal surprising generational differences.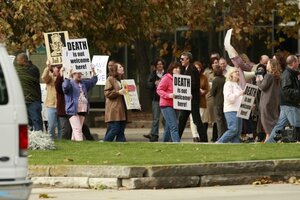 k12/k12/ZUMA Press/Newscom
What's the single most controversial cultural issue in America? According to a Gallup survey conducted last month, it's doctor-assisted suicide, the issue symbolized by Dr. Jack Kevorkian, who died today. Nearly half of Americans say it's morally acceptable, while the other half say it's morally wrong.
Gallup examined other issues, too, from gambling and premarital sex to cloning humans and medical testing on animals. It analyzed responses according to political affiliation and age.
When it comes to moral issues, it's no shocker that Democrats and Republicans see things differently. Sixty-five percent of Democrats said out-of-wedlock births are "morally acceptable," while just 35 percent of Republicans agreed. The gap on abortion was even wider: 55 to 18.
What is surprising is the nature of America's generational gap on hot-button social questions. The size of the gap is large but largely expected: Young people are almost always morally more liberal than their parents or grandparents. It's the pattern of the gap that's striking. To see details, click on the chart at left:
If it feels good, do it?
When it comes to pornography, gay/lesbian relations, premarital sex, and gambling, 18-to-34 year-olds are much more likely than older respondents to perceive them as morally acceptable. The gap is particularly high when it comes to polygamy, which nearly 1 in 5 young Americans say is OK. On the flip side, the young frown on medical testing on animals, the death penalty, and use of animal fur for clothing.
So are young adults just more liberal? Not exactly. Their scores for abortion are relatively conservative – fewer than half say it's morally acceptable – and their views on extramarital affairs are virtually identical with those of other generations.
---