Euro crisis and Germany: Is this 'indispensable' nation to be feared, or welcomed?
The euro crisis revives 'the German question.' Former British Prime Minister Margaret Thatcher had deep qualms about German reunification, predicting the country would dominate Europe. Today, Poland's foreign minister worries Germany is not leading strongly enough. Both are right.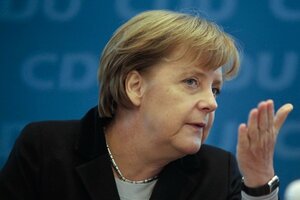 AP Photo/Markus Schreiber
More than 20 years after the end of the Cold War, a sense of déjà vu is raising anew issues once thought settled. In Moscow, demonstrators are once again filling the streets, calling for an end to authoritarian rule – this time aimed at Vladimir Putin instead of the Communist Party. In Europe, resolution of the sovereign debt crisis on Berlin's terms has retrieved the "German question" from the ash can of history.
What happens next in Russia's version of the Facebook-driven Arab Spring will take some time to play out. German dominance of Europe, however, is already enough of a fact to prompt British Prime Minister David Cameron to opt out of any role in the future of a German-run European Union that would constrain British sovereignty.
Former British Prime Minister Margaret Thatcher long ago saw the challenge Mr. Cameron would be facing. In a candid roundtable discussion about German unification and the end of the cold war with Francois Mitterrand, George H.W. Bush, and Mikhail Gorbachev published in the journal NPQ in 1995, Ms. Thatcher minced no words. "I was opposed to German unification from early on for the obvious reasons. To unify Germany would make her the dominant nation in the European community. They are powerful, and they are efficient," she said at the time.
---