World is ignoring most important lesson from Fukushima nuclear disaster
Fukushima's most important lesson is this: Probability theory (that disaster is unlikely) failed us. If you have made assumptions, you are not prepared. Nuclear power plants should have multiple, reliable ways to cool reactors. Any nuclear plant that doesn't heed this lesson is inviting disaster.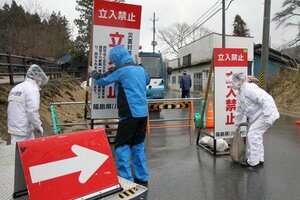 Kyodo/Reuters
A year has now passed since the complete core meltdown of three boiling water reactors at Tokyo Electric Power Company's Fukushima No.1 plant. Because of the limited information issued by the Japanese government – and its insistence that the disaster was only a result of the unanticipated magnitude of the earthquake and tsunami – the world does not know what really happened and will thus draw the wrong lessons.
The most critical lesson for the global nuclear industry to learn, since most plants around the world do not face tsunami or earthquake risks, is that no one imagined that the external electricity supply from outside the plant that would cool the reactors could be disrupted. That assumption, just like the assumption that a natural event of the size that took place was unlikely, was based on "probability theory" taught to all nuclear engineers. It is the basis – wrongly – for telling the public that nuclear power generation is "safe."
As a nuclear core designer who obtained my doctorate from Massachusetts Institute of Technology in Nuclear Engineering, I volunteered to look into the situation at Fukushima No.1 in June of 2011. Goushi Hosono, Japan's minister of Nuclear Power and Environment, personally granted me access to the information and personnel who were directly involved in the containment operations of the post-disaster nuclear plants.
---