Recep Tayyip Erdogan: Turkey's economy meets EU membership criteria
Since 2002, Turkey's growth strategy, fiscal discipline, and structural reforms have helped it become the world's 16th largest economy. Last year, Turkey's figures for growth, public borrowing, long-term debt, and unemployment were vastly better than Europe's.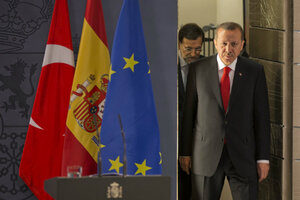 Daniel Ochoa de Olza/AP
Until recently Turkey was a country that had to borrow from the IMF. But positive developments over the last 10 years have led Turkey to become a country that now lends to the IMF instead.
Our ability to do this is a result of policies of fiscal discipline we have implemented since our own crisis in 2001. In the past, we had debts to the IMF of $20 billion. Now, that is down to $1.7 billion. Our central bank has reserves of $115 billion.
The crisis we have gone through was similar to what the EU is experiencing now. Many banks went bankrupt. People's savings disappeared. Companies closed down. The Turkish economy shrank drastically.
That crisis was a very important lesson for us. Since 2002 our government has pursued a strategy of growth along with fiscal discipline – which is why we've reach the level we are at today.
In order not to go through a crisis like 2001 once again, we have also carried out structural reforms – ranging from timely and decisive banking reform to changes in health care and social services – that not only strengthened the Turkish economy but also increased the confidence of the Turkish people in their government.
As a result, Turkey has climbed to the rank of the world's 16th largest economy. Last year our economy grew at 8.5 percent – one of the fastest rates in the world. By comparison, Europe only grew by 1.5 percent last year. Over the last nine months there was no growth at all in Europe taken as a whole, with GDP actually shrinking in some places.
In Europe in general, public borrowing in annual budgets has grown to 4.5 percent of GDP, while in Turkey it has fallen to 1.7 percent.
Overall, long-term debt in Europe amounted last year to 85 percent of GDP, while in Turkey it was only 37 percent.
Unemployment in Turkey is at 8.5 percent. Overall in Europe it was 10.5 percent as of August 2011.
---