'Soft' nationalism is good for China
Chinese-style soft nationalism takes pride in Confucian values and should be the way of the future. But can it spread from Nanjing to the rest of China? There are reasons to be optimistic.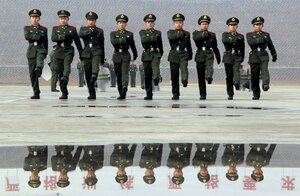 China Daily/Reuters/File
Chinese nationalism is bad; or so it seems to the rest of the world. For most of the 20th century, China viewed itself as a victim of foreign bullying, and Chinese leaders drew on the emotion of resentment in order to strengthen the state. Now that China is becoming more powerful, it's China's turn to bully others. Naturally, other countries are worried.
But there are two forms of nationalism in China. The "hard" form often reported by the foreign media tends to be centered in Beijing's military circles and the upper echelons of the party. China's new leader, Xi Jinping, visited the National Museum of China that highlights the Opium Wars and the subsequent "century of humiliation" of China. He then issued a call to realize "the cause of national rejuvenation" that seemed to coincide with increased assertiveness of territorial claims over contested islands.
To be fair, hard nationalism is not necessarily bad. The moral point of building up state power is to secure political stability so people can lead decent lives without worrying about material deprivation and physical insecurity. Hence, it made sense to build up state power when China was poor and routinely bullied by foreign powers.
The problem, of course, is that China is now a major economic power with relatively secure territorial boundaries. Hence, hard nationalism is harder to justify now. It seems designed not just to remind China of its humiliation at the hands of outside powers, but also to make people forget about China's more recent humiliation at the hands of its own rulers.
---