President Obama must understand the nationalism of China's President Xi
China's President Xi Jinping is both a nationalist and a reformer. President Obama must understand the motivations for Mr. Xi's nationalism, so that as the two leaders meet at a summit in California today, the US-China relationship will benefit. And the world will applaud.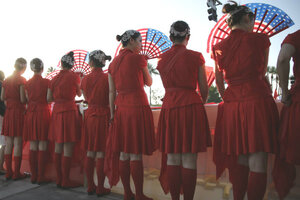 Jae C. Hong/AP
What to make of President Xi Jinping, China's new senior leader, who holds his first summit with President Obama June 7-8 in California? The hope is that Mr. Xi is a reformer who will guide China through domestic transformation and to responsible statecraft. The fear is that Xi is a nationalist who has set China on an aggressive, expansionist course of bullying its neighbors and confronting the United States.
The fear seems not unfounded. China has intensified its territorial claims, from islands disputes with Japan to vast areas of the South China Sea. Xi frequently inspects People's Liberation Army (PLA) forces, especially naval fleets, exhorting China's military to "get ready to fight and to win wars" and "to win regional warfare under IT-oriented conditions." Xi, who in his late 20s served as an officer in active military service, instructs the PLA they "must win every war."
Xi holds China's top three positions: general secretary of the Communist Party of China (CPC), head of the ruling party; president of China, head of state; and chairman of the Central Military Commission, head of the military. Xi will likely lead China for a decade.
Just after becoming Party chief in late 2012, Xi announced what would become the hallmark of his administration. "The Chinese Dream," he said, is "the great rejuvenation of the Chinese nation."
Xi's Chinese Dream is described as achieving the "Two 100s": 1) The material goal of China becoming a "moderately well-off society" by about 2020, around the 100th anniversary of the CPC; 2) The modernization goal of China becoming a fully developed nation by about 2049, the 100th anniversary of the People's Republic of China.
---