Expect a nuclear deal with Iran's Rouhani – but not normal ties with US
Iran's President Rouhani is sincere about a nuclear deal, because the costs of building a nuclear bomb are too high. But demonizing the US is still the linchpin of foreign policy for a certain faction in Tehran. For them, normalization of US relations would mean the regime's end.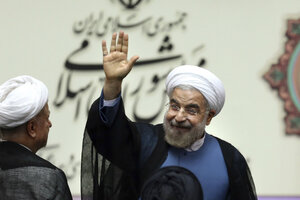 Ebrahim Noroozi/AP/file
Since the hostage crisis 34 years ago, the Iranian regime has made the United States a linchpin of its domestic and international politics. To normalize relations with the US would mean that the regime would have to deprive itself of this linchpin. For a still-powerful faction within the leadership, normalization would spell the end of the regime. They will thus try to oppose it in any way they can.
But there is a real possibility of a negotiated deal on Iran's nuclear program.
The key to understanding President Hassan Rouhani's turnaround at the United Nations – and its contradictions – can be found in Iran's past behavior. As a whole, Mr. Rouhani's talks and interviews while visiting New York last month demonstrated once again that, in Iran, foreign policy dictates domestic politics and not vice versa. The regime has always used international crisis to consolidate its domestic control – until the costs outweigh the benefits.
Since the early days of the Iranian revolution, the Iranian regime has always pushed crisis forward to a point beyond which it can no longer continue. The regime then ends up "drinking the poison chalice of defeat" (a term Ayatollah Khomeini used when agreeing to end the war with Iraq).
---