After US withdrawal from Iraq, a tallying of the balance sheet
The cost of the Iraq war was high, in lives and treasure. Families who lost loved ones can take heart that Saddam Hussein, one of the worst dictators since Hitler, is gone. But the final answer to whether this US effort was worth it still awaits history.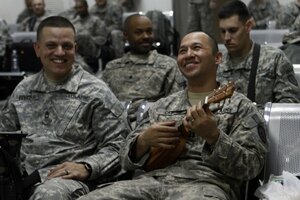 AP Photo/Maya Alleruzzo
Was it worth it?
The US war in Iraq is officially over and the cost in human life, both American and Iraqi, was high. It was also a financial drain on the US Treasury, contributing substantially to current American budget deficits.
The war was triggered by concern that Iraq was nuclear-weapons capable. Various foreign intelligence agencies, including that of Saudi Arabia, warned that Saddam Hussein's regime had acquired, or was close to acquiring, nuclear weaponry. The CIA concluded the same.
After his capture, millions of jubilant Iraqis went to unrigged polls for the first time and waved purple fingers at the TV cameras, demonstrating their new freedom.
Does this make worthy the American sacrifice on their behalf? It certainly must be weighed as a factor.
Mr. Hussein himself contributed to the thesis by playing a dangerous shell game. Largely to convince his then-enemy Iran, he whispered that he did have such weapons. Even some of his own generals believed it. But to the United Nations and the United States and other worried nations he offered assurances that he did not.
---