GOP candidates need to debate legalizing marijuana
As GOP candidates debate values, I have not heard them address legalizing marijuana. The words of a narcotics agent ring in my ears: 'I can't say every pot smoker goes on to get hooked on the hard stuff. But I can say every addict I know on the hard stuff got started on pot.'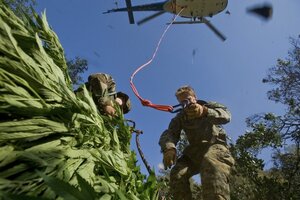 Randall Benton, The Sacramento Bee, AP, file
In the current debates among GOP presidential contenders about "values," I have not heard any discussion about the legalization of marijuana. I think there should be.
Last year, Rep. Ron Paul (R) of Texas introduced a bill with Rep. Barney Frank (D) of Massachusetts to decriminalize marijuana and hand regulation to the states. Fortunately, it went nowhere – but legalization advocates persist. Americans need to hear more from the other candidates about their views on this.
When I worked as a foreign correspondent in Asia for the Monitor, I recommended to my editors that we pay serious attention to international narcotics traffic.
I had seen a fair amount of drug abuse by American soldiers in Vietnam and was aware of drug trafficking in Laos and Thailand and other Asian countries. My editors agreed, even though it would cost considerable time and money. Their judgment was justified when the Overseas Press Club of America gave the published series the prize for best foreign reporting.
---