Should America's illegal immigrants be offered legal status?
There are 11 million illegal immigrants living in the US. With midterm elections around the corner, the immigration reform debate is heating up – fueled by everything from Arizona's controversial immigration law to the 14th Amendment's birthright citizenship clause.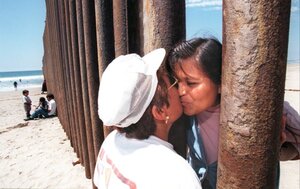 Hector Mata/Newscom
No: Amnesty is wrong and costly
Immigration laws exist for a very good reason: Excessive levels of immigration can have a profoundly negative impact on the receiving society. There is no aspect of American life – jobs, wages, education, health care, taxes, environment, to name a few – that is not affected by immigration.
The cost of amnesty is too high. Americans already bear a $113 billion annual burden from their government's refusal to enforce immigration laws. Millions of jobs – that Americans want and need – are filled by illegal immigrants willing to work for low wages. Amnesty would make the largely poorly educated and poorly skilled illegal immigrant population eligible for costly benefits and services, increasing the burden for American taxpayers, and paving the way for family members to follow them here.
Amnesty "solves" the illegal immigration problem in much the same way that raising the speed limit to 150 miles per hour "solves" speeding. The illegality is removed, but the detrimental consequences to everyone else grow worse. Rewarding lawbreaking is wrong and only generates more of it. We granted amnesty to some 3 million people in 1986 and now have at least 11 million illegal immigrants in United States.
---