Look who's pro-U.S. now: Saudi Arabia
It's now one of the most pro-US and antiterrorist Muslim countries.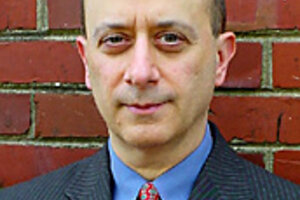 Courtesy of Kenneth Ballen
President Bush is expected to make his first state visit to Saudi Arabia Jan. 14. Saudi Arabia is the birthplace of Islam and home to its holiest places. It is also the home country of Osama bin Laden and 15 of the 19 Sept. 11 terrorists.
What Mr. Bush will find in Saudi Arabia would surprise most Americans – indeed, most Muslims around the world, who look to Saudi Arabia as their spiritual home.
For in this country most sacred to Muslims, Mr. bin Laden's countrymen have dramatically turned against him, Al Qaeda, Saudi fighters in Iraq, and terrorism itself. And they have also equally dramatically turned in favor of bin Laden's chief enemy: the United States. The people of Saudi Arabia are now among the most pro-American and antiterrorist of any in the entire Muslim world.
These are just some of the startling findings of a rare opinion survey conducted in Saudi Arabia last month by the nonprofit polling group I lead, Terror Free Tomorrow, and by D3 Systems.
Fewer than 1 in 10 Saudis has a favorable opinion of Al Qaeda, and 88 percent approve the Saudi military and police pursuing Al Qaeda fighters. Only 15 percent of Saudis have a favorable opinion of bin Laden himself. (A Saudi poll late in 2003 showed 49 percent favorable.)
---