The real reason for Kenya's violence
Contrary to popular belief, it isn't simply 'tribal' or 'spontaneous.'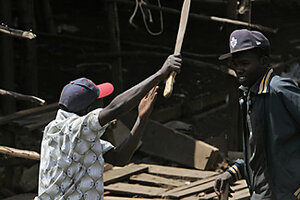 Karel Prinsloo/AP
Hundreds have been killed and hundreds of thousands displaced in the three weeks since Kenya's hotly disputed presidential elections. Once considered an island of stability in Africa, the country is suffering what the media has called a "shocking outbreak of violence" and "tribal clashes."
The key questions we should be asking are: Who is responsible for this violence? How is it happening? But we will not ask these questions if we continue to see the current violence as simply a spontaneous outburst of anger at the election rigging or "tribal warfare."
The international community must realize that Kenya's violence today is fueled by strongmen on both sides of the political divide. They are exploiting ethnic identity, pitting one community against another, as a means to gain power. It is a practice with a long history in Kenyan politics.
The fury of the violence may look like "tribal warfare" linked to election anger, especially in the worst instances of ethnic cleansing – as in Eldoret, where women and children were burned alive in a church. A common explanation is that members of the Kikuyu community are facing retaliation from others for their longtime "dominance." Like Kenya's first president, Jomo Kenyatta, President Mwai Kibaki is Kikuyu; opposition leader Raila Odinga is Luo.
---