Women and men in sports: Separate is not equal
Why is gender segregation in sports normal? Boys and girls should play together.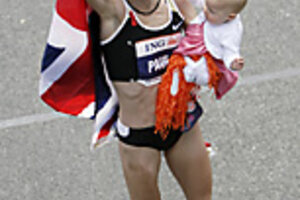 SETH WENIG/AP
Thirty-three weeks pregnant with twins, yet determined to lead her talented University of Maryland women's basketball team into the national championships, coach Brenda Frese – known for energetically pacing the sideline – found a novel way to relieve her aching lower back during a home game this month: She had an office chair rolled onto the gym floor.
The result, amplified by a giant color photo in USA Today of a seated, beach-ball-bellied Ms. Frese thrusting her fist into the air, was a powerful visual metaphor for women in the world of sports.
Frese's example, like Paula Radcliffe training through pregnancy and winning the 2007 New York City Marathon, doesn't camouflage – but actually flaunts – the fact that women are physically different than men.
It also challenges an assumption that still dogs women today: The female body is athletically inferior to a male body.
For all the progress women have made – in government, business, and the military – the shadow of female frailty still shapes the environment of sports.
To study the structure of organized athletics today – from youth leagues to the Olympics – is to see a system that feeds the faulty belief that females can't play as long, as well, or as hard as males.
The strict gender segregation of almost all sports is considered normal, even progressive. But separate, it turns out, is not equal.
No, this is not just about athletics. It's about how we view and value one another. That's why it's critical that we create a sports culture that is truly co-ed.
Historical prejudice
---