Second thoughts on Beijing's new Olympic-inspired architecture
The new Beijing may not be best for China.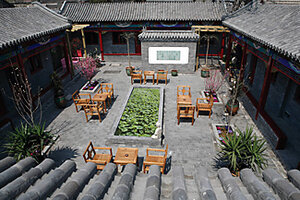 Courtesy of Shauna Liu
The capital hasn't seen this kind of an architectural makeover since the Mongols overtook the city, but a new Beijing may not be what's best for a modern China.
Over the summer I found myself on a dusty lot overlooking Herzog & de Meuron's newest creation: an elegant jumble of I-beams that Beijing residents wryly refer to as the "bird's nest." When it's completed, the stadium will house 90,000 spectators for the opening of the Olympics, marking what many believe to be the "Century of China." I struggled to see anything beyond the gawking tourists, imposing cranes, and cough-inducing smog.
Beijing isn't very Beijing-ish anymore. Just a decade ago, I could amble through the labyrinths of hutongs – narrow alleyways unique to the capital – and sip some cha at the neighborhood teahouse. Now I barely recognize the new Beijing.
The sleepy outpost once considered the architectural backwater of Asia now rivals Shanghai and Hong Kong as a cosmopolitan juggernaut and its ambitions do not stop there. "Beijing desperately wants to be accepted as a global city," says Jeff Soule, a consultant on China for the American Planning Association. In the last few years, Beijing has snatched the attention of the world's top architects away from the usual gang – New York, London, Paris – to power its metamorphosis at a frenetic pace that threatens to eclipse Dubai's.
---