The dilemma of retirement from sports
Sports heroes have a tough time saying goodbye, and for good reason.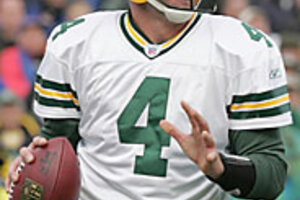 NEWSCOM
My wife and I have a sworn pact: As soon as she notices that I'm losing it upstairs – or not having fun – she'll force me to retire. And I'll do the same for her.
That's the deal, anyhow.
Retiring is hard. It's an admission – to the world and to yourself – that you may not be the same person you used to be. Nobody wants to think that their skills, energy, or desire has changed. And nobody wants to tell their partner that, either.
It's particularly hard for professional athletes, whose skills seem to deteriorate much more quickly. That's why so many of them overstay their welcome, refusing to quit when they should. It's also why they keep coming back, even after they do retire.
And that brings us to Brett Favre.
Last March, Mr. Favre held a tearful press conference to announce his retirement from the Green Bay Packers. Favre led the Packers to the 2008 NFC title game, where they fell in overtime to the eventual Super Bowl champion New York Giants. But he couldn't run or throw the way he used to, and he knew it. So it was time to move on.
Earlier this month, however, before the 38-year-old Favre had been officially released from his contract, he told the Packers that he wants back in. And now it's the Packers who want to move on, grooming a new quarterback to fill Favre's huge cleats. But they're reluctant to release Favre, because they wouldn't get any compensation from the next team that signed him. And they don't want to trade him to another contender, either.
---