The new pretty in pink: men
Guys now tan and wax. What's a modern girl to do?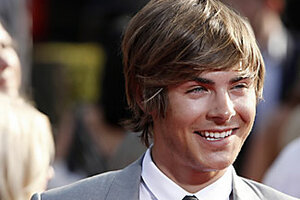 Matt Sayles/ap-file
A few months ago, I was walking down 42nd Street in midtown Manhattan and was surprised by a magazine cover being prominently displayed in the clear side window of a newsstand.
Had the generally male-centric Details magazine really put Kelly Clarkson on its cover? There was a svelte brunette with those token beautiful eyes staring at me from the magazine. When I got closer, I realized that it was really a picture of Zac Efron, the teen heartthrob of "High School Musical" fame. But in my defense, he looked downright girly.
What this indicates, though, is a significant shift in how America views and defines masculinity.
More recently, in the music video for the smash hit "Four Minutes" by Justin Timberlake and Madonna, Timberlake sashays around Madonna, jumping and twirling, as the leather-clad babe shows off much more labor-intensive dance moves (a role reversal in music videos, given that women are usually the more decorative dance partner).
Sure, the gender confusion could be the age dynamic and the talent imbalance – Timberlake might as well be a hyperactive puppy next to the cool entertainment industry matriarch Madonna, who is also a classically trained dancer. But I think that this music video says something much deeper about the state of gender roles today. Timberlake is part of a broader celebrity culture that has shifted the male ideal from being gnarled and brusque and violent, to being polished and lightweight and almost feminine.
---