What it takes to run for Olympic gold
Lessons from a legendary American runner.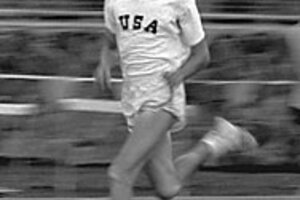 AP
Dear Fellow Olympians:
As I sit here watching the Beijing Olympics with my family, I do so with great excitement, anticipation, and pride for you as representatives of our USA Olympic track and field team. As athletes, you'll sprint, jump, or throw. As Americans, you'll always stand tall as ambassadors of our great nation.
It was my privilege to represent the United States in three Olympic Games. I ran the 1500 meter, known as the metric mile. The 100 meter dash may be flashier, but the 1500 meter is still the premier track event. A grueling test of grit and wit, it requires the speed of a sprinter and the endurance of a distance runner. Each of us identifies with this distance, whether we have run, walked, or driven it. That's why it captures the attention and imagination of a global audience.
Yet American runners have won this race only once in Olympic history: Mel Sheppard at the 1908 London Games. Three others, including me in 1968, have won silver medals. This year's squad includes Bernard Lagat, who came to Beijing with a good opportunity to win gold.
The single piece of round silver hanging today in my home represents one of my all-time best races. I left it all on the track that day in Mexico City.
---
Follow Stories Like This
Get the Monitor stories you care about delivered to your inbox.