In Iraq, a different kind of drama stages a message of reconciliation
A brave band of Iraqi women are defying insurgent threats and taking back their streets.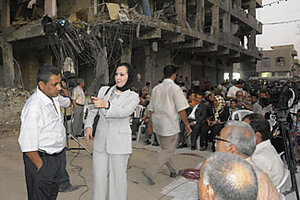 Courtesy of RAND Corporation
The actor stands on a makeshift stage at a bombed-out, dusty intersection in Baghdad. It's an unusually cool evening in September, and a crowd that looks like most of the neighborhood has assembled to enjoy the rare entertainment.
"Sunni! Shiite!" he yells. "Whatever ethnic group – I don't care! Spurn each other's hand no longer. Long life and success – to both of you!" This is the message of reconciliation carried by the Al Mada street theater troupe, led by one of Iraq's rising female stars, Ghada Hussein Al-Almy.
While female suicide bombers in Iraq have been getting all the headlines, a very different cadre of women has emerged on the scene with the opposite goal of forging peace and paving over the sectarian differences. Above all, these activists want to take back the streets and neighborhoods of their country.
We have spent the past several years studying how women promote conflict resolution in places such as Belfast, Sarajevo, and Damascus. But we've seen nothing like the women activists we encounter now in Iraq, especially given the personal risk they take to advance their message.
---