Made in China: US can't afford high cost of low-priced Christmas gifts
US retailers and economists hail the Christmas shopping season, but consumers' binging on holiday gifts will produce more red ink than growth and jobs. Their purchases are nearly all imports – most from China. For real recovery, the US must regain its manufacturing market share.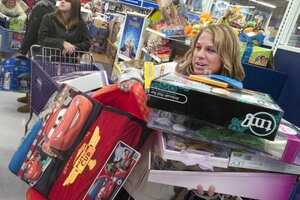 AP Photo/The York Daily Record, Jason Plotkin
Although the first predictions of a record holiday shopping season have been scaled back, hopes remain alive that December retail sales will still give the US economy a badly needed lift. But consumers' binging on holiday gifts will actually produce much more red ink for America than growth and jobs. For nearly all of their purchases are imports, and new government data make clear that this year their debt-creation will hit new records.
Consumption by Americans does generate greater US output and therefore more employment – but mainly when the goods and services they buy are produced domestically. When Americans buy imports, nearly all the growth and jobs are created where these products are made – overseas.
Worse, like any items bought by Americans with credit, purchases of imports financed by borrowed money (as US trade deficits show has often been the case) add to the country's already bloated national debt. Relatively speaking, nowhere are these leakage and debt-creation effects greater than in the consumer goods categories long dominated by products manufactured abroad, and that account for nearly all holiday gifts.
The way Christmas shopping affects the economy is best seen by examining 24 categories of consumer goods where reliable data from the US Census Bureau can be found. For all of 2009, Americans consumed just over $143 billion worth of these consumer products. Nearly 80 percent came from abroad, and nearly 45 percent were produced in China alone. In 2010, these purchases rose to just under $158 billion, with slightly higher percentages of goods imported from abroad and China. (The figures cited would be even higher if the Census data for consumer electronics products were included, but that data contain too many internal contradictions to be reliable.)
---
Follow Stories Like This
Get the Monitor stories you care about delivered to your inbox.