Four ways to relieve overcrowded prisons
Finally, America is beginning to tackle overcrowded prisons, prompted by financially strapped states that can no longer afford them. The road to prison reform, and less crowding, includes revamping 'three strikes' laws, as in California, and limiting pre-trial detention.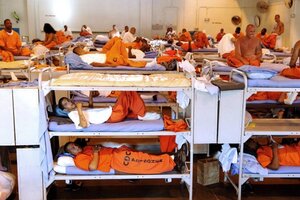 AP Photo/California Department of Corrections/File
Necessity can spur novelty. Even political novelty. As the need for fiscal austerity grows, an unlikely alliance has emerged between policymakers and public advocates who have long sought criminal justice reform. These policymakers are realizing what advocates have reiterated for years: The nation's addiction to incarceration as a curb on crime must end. The evidence is staggering.
In California, 54 prisoners may share a single toilet and 200 prisoners may live in a gymnasium supervised by two or three officers. Suicidal inmates may be held for protracted periods in cages without toilets and the wait times for mental health care sometimes reach 12 months.
Citing these conditions and more, the Supreme Court ruled in May that California prisoners were deprived adequate access to medical and mental health care in violation of the Eighth Amendment and its prohibition against cruel and unusual punishment. It ordered the early release of tens of thousands of inmates.
Prison overcrowding is ubiquitous and shows few signs of abating: Between 1970 and 2005, the nation's inmate population grew by 700 percent. Besides impeding access to health care, overcrowding also creates unsafe and unsanitary conditions, diverts prison resources away from education and social development, and forces low- and high-risk offenders to mingle, increasing the likelihood of recidivism.
---