Why I rent, despite low mortgage rates
Mortgage rates are in the basement. Real estate is more affordable. But in this dismal job market, Americans need to stay mobile. For now, home is where I lay my head, and it's a rental.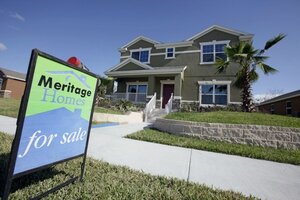 AP Photo/John Raoux
I'm 31, have a good job, some savings, and good credit. I live in a part of the country with very affordable real estate and I'm a renter. This is typically when an American like me goes house shopping.
Pass.
Why on earth would I borrow a few hundred thousand dollars for a house? Home values continue to languish across the country and the Federal Reserve is all but guaranteeing that mortgage rates will be rock-bottom for years.
If I buy property, I face considerable risk in a fetid economy that my future neighbors are unemployed, insolvent, and facing foreclosure, which will sabotage the value of my investment.
Plus, there's all the cost of home maintenance. American wages are flat (professors at the university where I teach have not received a pay increase in years and are looking at a likely cost of living increase of half a percent this annum). Meanwhile, the cost of food and energy surges.
No thanks. If I don't shop in a sketchy produce market, I won't buy a lemon.
More importantly, though, I don't want to physically anchor myself to a piece of land in the United States, which features a wretched job market, towering national debt, and inept legislators. People need to stay limber and keep their running shoes on for job relocation.
---