When character counts in choosing a president
'Private sins' usually matter far less than 'public virtues' in presidents. Whether in Iowa or New Hampshire, voters must weigh how Romney, Gingrich, or any other candidate has behaved in public life. Look for the qualities of courage, self-control, wisdom, and justice.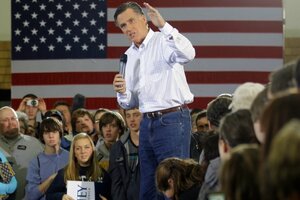 REUTERS/Brian Snyder
Americans have a good idea of how Barack Obama would do in the 2013-17 term: Just look at what he's done since 2009.
Appraising his major rivals is trickier. Should voters weigh the character of candidates or focus only on their positions? A high-minded person might say that we should just look at policy, averting our eyes from the grubby details of personality.
But if we want to ponder how a candidate would fare in office, this approach won't take us very far. Read my lips: Candidates will break their promises.
More important, they cannot anticipate all of the issues that will emerge during the next presidential term. Political scientist Amy Black points out that terrorism scarcely came up during the 2000 campaign, even though it would become the central national concern a year later.
Character counts, but let's be clear on what "character" means. When journalists use the term, they are often referring to politicians' personal lives. This kind of "character issue" can be relevant if private sins taint public behavior, as they arguably did in the Lewinsky affair, when President Clinton gave misleading testimony in federal court.
Such cases are the exception, however. Usually there is no clear link between home life and political life. Franklin D. Roosevelt was an unfaithful husband and a neglectful father, but he was still a great president.
For the purpose of choosing a chief executive, it is more important to think about public character. How have candidates conducted themselves in office, in business, or on the campaign trail? Have they shown the cardinal virtues of courage, self-control, wisdom, and justice?
---