How can it be? Student financial aid fuels increase in college tuition. (+Video)
When federal (and state) financial aid programs make money available to well-off students, it is in a college's interest to capture that aid and use it to 'improve' the college, thus driving up costs and tuition. Aid must be restructured so that more of it goes to needy students.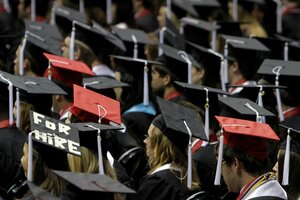 AP Photo/Butch Dill/File
Something is fundamentally wrong with America's college financial aid system when students from families with triple-digit incomes receive plenty of federal aid – while the less well-off are scrambling for it.
According to the Department of Education, 35 percent of dependent students from families making at least $100,000 a year received Federal Stafford Loans in 2008, and 15.6 percent received the "subsidized" variety (where the government pays the interest while the student is in school). Stafford loans account for 82 percent of all federal financial aid lending.
Two theories compete to explain this, and they offer radically different policy prescriptions.
The first explanation holds that college costs are mostly determined by factors over which colleges have little control, such as prevailing faculty salaries. Colleges can do little other than react by setting tuition to cover costs.
If students are having to pay more, then financial aid and state appropriations budgets must be inadequate. The solution is straightforward: The federal government should increase the money available for financial aid.
We think this theory is incorrect. An alternative, which holds that the real problem is out-of-control spending in higher education, provides the better explanation.
Under this view, more money for financial aid will simply be absorbed as college spending increases. Our research (most notably our 2009 study, "Financial Aid in Theory and Practice") found that increased financial aid can be downright counterproductive by fueling the academic arms race – a major driver of the cost and tuition explosion in higher education.
---