What does Play-Doh have to do with Plato? A mother's battle with the college essay
My son and I knew these admission essays were important. But the advice on the bookstore shelves overwhelmed us. For students hoping to meet the last few application deadlines: Forget high-priced college consultants and turn instead to the real experts, the essayists themselves.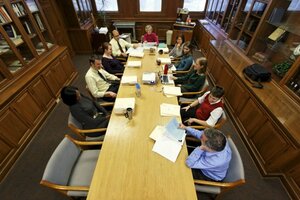 AP Photo/Oberlin College, Gary Cohen
"Mom, don't worry, I have six months to work on this," my 17-year-old son said last June as he left for his summer job.
"But Plato and Kierkegaard require more time," I yelled, as the screen door slammed behind him.
By September, I had surrendered my dining room table to a printer, a laptop, and piles of half-written college admission essays – not just any essay, but the dreaded supplemental essay.
The Common Application, an application widely accepted by colleges and universities, requires students to write one essay on an extracurricular activity and a longer personal essay.
But many schools require more: a supplemental essay, or two, or three. And it is these additional essays that propel the already-busy high school senior into a Montaigne-like marathon, writing essays on life, love, and the pursuit of diversity.
I did the math. If my son applied to 10 schools, he could conceivably be writing an additional 30 essays. And this, in addition to violin, tae kwon do, AP courses, and volunteering for the school's animal humane society.
I trembled as I read one of the questions:
"'We might say that we were looking for global schemas, symmetries, universal and unchanging laws – and what we have discovered is the mutable, the ephemeral, the complex.' Support or challenge Nobel Prize winner Ilya Prigogine's assertion."
I called a few friends to see who was up to date on their Prigogine. But a month before the deadline, harried and stressed, they were too busy proofreading, researching, and hiring consultants to worry about global schemas.
"It's ridiculous. Who comes up with these questions anyway?" asked a mother, who was seen around town carrying a dog-eared copy of "College Essays that Made a Difference," complete with an index of where the students had been accepted.
Others were more laid back, "Essays? I don't even think he has started yet," said a friend. "Will you ask him how they are going?" she pleaded.
My son and I knew these essays were important. The bookstore's endless shelves of essay-writing advice made that clear. We knew they could be the deciding factor between students with similar scores and grades.
We studied a few of the books. To my dismay, it made matters worse; we felt overwhelmed by the advice. Reflective or action-oriented? Funny or serious?
At the University of Chicago, applicants were asked to choose one question from a list of six options. Here is a partial list:
1. "What does Play-Doh have to do with Plato?"
2. "Don't write about reverse psychology."
3. "….Between living and dreaming there is a third thing. Guess it."
---