Obama's health-care law is hurting insurance agents and millions of consumers
This month marks a year since Obama's health law put into play one of its lesser known, but most damaging provisions. A rule that amounts to a pay cut for insurance agencies has complicated the lives of millions, reducing the help with claims that these agents provide.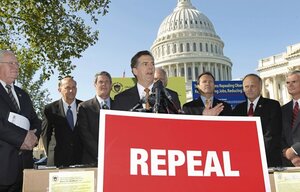 AP Photo/J. Scott Applewhite
The national health-care reform law's unintended consequences have been well catalogued. This month marks a year since President Obama's Affordable Care Act, sometimes called Obamacare, put into play one of its lesser known, but most damaging provisions.
If you've never heard of the law's medical loss ratio (MLR) provision, you're certainly not alone. This simple calculation has had the effect of radically reducing what health insurance agents earn. That, in turn as greatly restricted their ability to help million of Americans navigate the maze of approvals needed for medical procedures and processing claims. It has also had a devastating effect on these agents' businesses and is disrupting the insurance market.
At the end of last year, state insurance commissioners took a big step to undo some of the damage done by the Patient Protection and Affordable Care Act. The National Association of Insurance Commissioners approved a resolution urging Congress to remove health insurance agents' compensation from the law's medical loss ratio provision. In the meantime, the association wants the Obama administration to what it can to mitigate the negative impact of the provision.
So what does that mean?
The MLR provision states that insurers must dedicate at least 80 percent of individual and small group premiums they receive to medical- or quality-improvement expenses. The figure goes up to 85 percent for large group policies. Because agents' compensation counts against the MLR (along with such items as marketing expenses and corporate profits), many insurance companies immediately slashed commissions when the provision went into effect last January.
---