State of the Union address: best and worst in history
The State of the Union address is a big moment for a president, but not usually a memorable one for the public. Americans are more likely to remember Gabrielle Giffords at tonight's speech than anything Obama says. Still, the speech has had its high points, and low ones.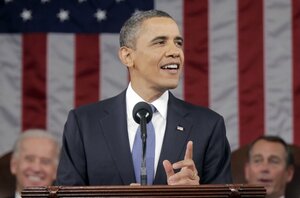 AP Photo/Pablo Martinez Monsivais, Pool/File
After President Obama delivers his State of the Union address this evening, will Americans recall what he said?
The address is high political drama and marks one of the biggest nights of the year for the president, especially in a campaign year.
It is a command performance, mandated by the Constitution. It is also a tightrope act balancing the formal constitutional requirements with the strong desire to use this popular venue as a bully pulpit – to Congress, the American people, and the world.
Yet as the speech has evolved over the years, only a few memorable phrases and ideas have survived in the public consciousness. This is a result of the nature of this address, which traditionally has been more about reporting on administrative achievements and proposals the president plans to lay before Congress in the coming year.
Reaching back in American history, James Monroe in his 1823 annual message called for foreign powers to stay out of the western hemisphere, which became known as the Monroe Doctrine.
Lyndon Johnson first used the term "war on poverty" in his 1964 address. In George W. Bush's 2003 address he included just 16 words on the topic of Saddam Hussein receiving shipments of uranium from Africa. Within months the US was at war with Iraq.
---