Yemen loses a dictator, but not his shadow
Yemen elected a new president this week, but one of the conditions for the vote was complete amnesty for the ousted longtime dictator, Ali Abdullah Saleh. Whether that amnesty will eventually be overturned has implications for Yemen, and other dictators in the region.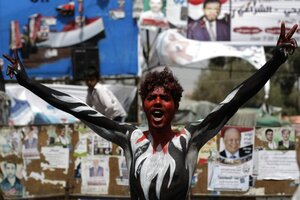 AP Photo/Hanoi Mohammed
After 33 years, Yemen is finally rid of its autocratic ruler, Ali Abdullah Saleh – but not necessarily free of his shadow.
With hope in their hearts, Yemenis surged to the polls this week to elect his replacement as president, the US-backed Abed Rabbo Mansour Hadi. Mr. Hadi holds the possibility for a peaceful transition in this fourth country to lose a dictator in the Arab Spring uprising.
But Mr. Hadi was vice president in the Saleh regime as well as the only candidate on the ballot. And there's another problematic side to this election. Mr. Saleh, who is in the United States receiving medical treatment, will not be going to jail, at least not for the foreseeable future.
To smooth the path to his departure, Yemen's parliament granted him a broad amnesty. It covers all crimes committed by Saleh during his entire rule, including the killings of hundreds of protesters over the last year.
Amnesty is still a central component of many political transitions despite the global expansion and promotion of trials for human rights violations.
Yet the Saleh case, depending on its long-term outcome, could potentially make such bargains less likely in the future, with an uncertain effect on global human rights.
Yemen exemplifies the political usefulness of amnesty. After mass protests against his rule began early last year, Saleh engaged in several rounds of negotiations for his extradition. In October, he agreed to leave office under a framework designed by the regional Gulf Cooperation Council, a key component of which was a wide-ranging immunity provision.
Parliament's recent passage of the law was linked to the nomination of Vice President Hadi for the presidency – Saleh's supporters refused to approve the nomination until the amnesty was in place. The amnesty has thus served to facilitate the final political bargain that enables a transition in Yemen.
---