How student-built solar homes can help solve US housing and energy crisis
Few of the homes created by university teams in the Solar Decathlon are ever lived in – despite their extraordinary expense and tax on the environment. Instead of building temporary show houses, schools should build energy-efficient homes for local people who need them.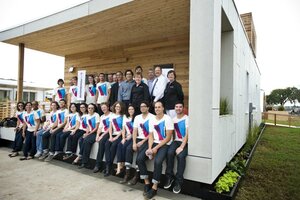 Kevin Wolf/AP Images for Dow Solar
Can more than 100 student-built solar homes help solve America's housing and energy crisis?
The housing market is still riddled with foreclosures and the median home price fell in January to its lowest point since November 2001. Meanwhile, gas prices keep climbing, reigniting the debate over America's oil dependence and clean energy alternatives.
It's no wonder then that the Department of Energy is relaunching its flagship program – The Solar Decathlon – which enlists students to build solar-powered houses that are "cost-effective, energy-efficient, and attractive." The program has produced nearly 100 houses – distinguished by their energy performance, but also their cutting-edge design. Many of them have been displayed on the Mall in Washington, D.C.
But as the housing crisis forces many Americans into foreclosure and even homelessness, few of the Solar Decathlon homes are ever lived in; some are literally never reconstructed once the Decathlon event concludes after a few short weeks. None of that, however, speaks to the extraordinary expense and environmental impact involved with shipping tons of building materials – glass, steel, and wood – along with dozens of people for every team across the country.
Rather than building temporary show houses, imagine instead if such resources were redirected to building energy-efficient homes for real people who need them, if not working to improve the efficiency and affordability of existing homes. Students and universities can still pioneer new models of home building, but they should do so by partnering with communities in need and organizations already focused on serving them.
There is little doubt that the Solar Decathlon program has provided an invaluable, collaborative learning environment for teams of architecture and engineering students. And its two sites to date – the Mall in Washington, D.C., and this past year the nearby Tidal Basin – have exposed countless visitors and nearby lawmakers, presumably, to the art and science of green homebuilding.
---