Attack Iran or more sanctions? A third option: Israel and Iran forsake nukes
An attack on Iran and sanctions are both unworkable. A third option is to create a nuclear-free Middle East. Yes, it sounds far-fetched. But it actually meets the strategic needs of both Israel and Iran. One idea is to relocate Israel's nukes elsewhere, rather than destroy them.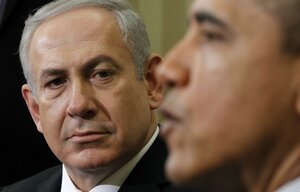 Pablo Martinez Monsivais/AP
For half a century now, Israel's regional nuclear monopoly has been its "Samson option," the one weapon it can threaten to use if all else fails and Israel faces a real existential threat. As a scholar concentrating on the Middle East conflict, and also as a native of Israel, I am not comforted by the nuclear security blanket under which I was born.
Now that this monopoly is facing an increasingly possible challenge from Iran, Israel should reconsider its nuclear supremacy – as far fetched as this may sound. The argument in favor of such a radical shift is not moral, but strategic. Israel may well be better off in a Middle East with no nuclear powers than in one with – potentially – several of them.
Iran, too, would have its own reasons to support such an arrangement. And a secure path to a "no nukes" zone may be found not in dismantling Israel's arsenal, but in relocating it.
In the face of an apparently fast-advancing Iranian nuclear project, the two options mostly discussed are sanctions and military attack. Neither is very appealing. The first is unlikely to halt the Iranian program and the second will only postpone it temporarily while possibly creating a regional conflagration on a large scale.
When Israel developed its own nuclear program, apparently in the late 1950s, it made much strategic sense. Israel was a small country, with very limited human and material resources, surrounded by hostile neighbors. Nuclear arms could provide the ultimate guarantee of security.
---