Senate resolution on Iran may be bipartisan, but it could lead to war
The Senate is considering a bipartisan resolution on Iran that denounces containment and could be taken as an authorization of US force against a nuclear Iran. But containment is the second-worst option. A preventive strike that could lead to war in the Middle East is the worst.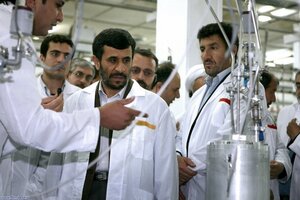 Iranian president's office/AP/fie
A Senate resolution on Iran is being touted by its bipartisan cosponsors as a way to "put to rest any suspicion" that the United States would acquiesce to a nuclear-capable Iran.
The tough tone is admirable, but the resolution, which awaits action in the Senate Committee on Foreign Relations, is seriously flawed. Although non-binding, this resolution expressing the sense of the Senate confuses the issue and is simply bad policy.
Cosponsored by Democrat Robert Casey of Pennsylvania, Republican Lindsey Graham of South Carolina, and Independent Joe Lieberman of Connecticut, the resolution calls on the president to "reaffirm the unacceptability of an Iran with nuclear-weapons capability." And it has him "oppose any policy that would rely on containment as an option in response to the Iranian nuclear threat."
As a retired Air Force colonel with experience as a student, instructor, and practitioner in the national security arena, I have two major concerns about this document, although I also see a silver lining.
---