How Apple, Foxconn, and others can address labor abuses in overseas factories
Why do we keep hearing about labor abuses in overseas factories like those of Apple-supplier Foxconn? Auditing and inspections are inadequate to solve the problem. Requiring companies to examine and publicly report on risks along their supply chains can help eliminate violations.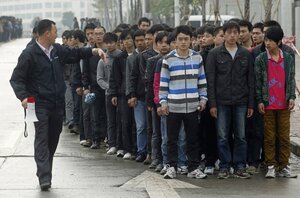 Joe Tan/Reuters/File
The New York Times' recent investigative report of poor working conditions at Apple supplier factories in China hit the airwaves with a bang. Shortly thereafter, The Guardian reported on abuses of workers producing sportswear in Bangladesh for Nike, Adidas and Puma. Though Mike Daisey's account of Apple factory abuses has been exposed for containing fabricated details, the underlying story of deplorable labor conditions remains true.
Accounts of labor rights abuses in overseas factories have been emerging since the mid-1990s, when Wal-Mart's Kathie Lee Gifford clothing line was found to be using child labor, as were some of Nike's contract factories in Asia, to take just two examples. Those early exposés led multinational corporations to establish supply chain management systems, which in turn spawned a cottage industry of factory inspections.
---