Bigger scandal in Latin America than US secret service: US drug hunger
The secret service prostitution scandal overshadows renewed calls at the Summit of the Americas for the US to stanch its drug consumption. A viral 'Drug Violence 2012' video (think 'Kony 2012') would help young Americans connect US drug use to violence in Central and South America.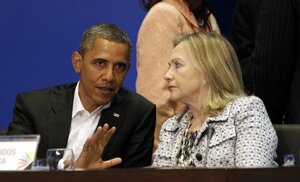 Kevin Lamarque/Reuters
As the drug war continues to ravage much of Mexico, other countries in Central America, and the Caribbean, the US Office of National Drug Control Policy could learn something from the controversial, yet virally popular, "Kony 2012" documentary in its fight against domestic drug use.
The success of the "Kony 2012" video, despite its various flaws, reveals an important yet absent element in the US drug prevention strategy: the need to appeal to the idealistic spirit of young Americans and connect US drug use to the increasing violence spreading through Latin America.
Since its release in early March, Invisible Children's contentious "Kony 2012" documentary has been viewed nearly 88 million times. The organization has been slammed with criticisms, but the slick production video did successfully tap into one idea: Young adults want to right the wrongs of this world and align themselves with a greater humanitarian cause – even if activism stretches only so far as donning Livestrong bracelets, wearing TOMS shoes, or sharing a video via Facebook.
"Kony 2012" blames the international community, and in particular, the United States, for its inaction in stopping Joseph Kony and his Lord's Resistance Army to commit violent atrocities in Uganda. In the drug war in Latin America, however, the US plays a far less passive role.
---