Candidates, lend me your ears
Robert Kennedy and Martin Luther King Jr. pulled poetry from their hearts to heal and rouse the nation. As this National Poetry Month draws to a close, our politics could benefit from reconnecting with poetry as a source of insight.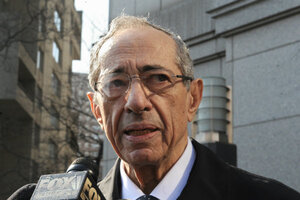 Louis Lanzano/AP
In a marvelous online essay for The American Scholar, author Tim Wendel recalls how Robert Kennedy used the power of words to calm a crowd after the assassination of the Rev. Martin Luther King Jr. in 1968.
Kennedy, who was running for president, was about to address supporters when he heard the news of King's death. Aides hurriedly approached Kennedy with some written suggestions of what to say, but he disregarded them and spoke from his head and heart instead.
The young US senator mentioned his own family's suffering after losing a loved one to an assassin's bullet. Then he quoted from a poem by the ancient Greek writer Aeschylus that he had memorized long before:
Even in our sleep, pain which cannot forget

Falls drop by drop upon the heart,

Until, in our own despair, against our will,

Comes wisdom through the awful grace of God.
Mr. Wendel credits Kennedy's words with helping to soothe the nation's anxiety and anger after a tragedy. Wendel also notes King's own gifts for rhetoric – an ability that, like Kennedy's, was honed through intimate familiarity with poetry.
All of this comes to mind with the arrival of another April, which means yet another observance of National Poetry Month. The existence of such a month is an admission of sorts that we don't value poetry much anymore. If poetry still enjoyed a central place in American life, then such a well-meaning promotion wouldn't be needed.
---