US must focus on upcoming leadership change in Afghanistan
When Obama made his secret visit to Afghanistan yesterday, he emphasized America's security role. The US needs to focus on helping Afghanistan build its political and governing capabilities. The Afghan presidential election looms with no plan for a smooth transition of power.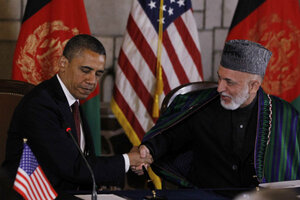 Charles Dharapak/AP
The exit sign is blinking in Afghanistan. Yesterday, President Obama secretly traveled to Kabul and signed a pact outlining US support for Afghanistan after the troop pullout in 2014. He also spoke to Americans about the war in a prime-time address.
The US focus is, and has been, primarily on security support for Afghanistan. But what about Afghanistan's political transition? The Afghan presidential election is also slated for 2014, but the buzz is that it may be moved up to 2013 to avoid overlap with the planned NATO troop drawdown.
Yet there is still no practical plan for a smooth transfer of political power. Policymakers should be asking what the Afghan and US governments could do to ensure a smooth transfer without leaving behind a looming political vacuum and potential civil strife.
While Afghanistan has traditionally lacked effective national leadership, the Afghan and US governments over the years have failed to develop a mature political class from which the Afghan people can democratically select its leaders.
This failure extends to the civil service, which is largely corrupt and inept and operates under a vast network of political patronage and nepotism. Ten years and counting since the US invaded Afghanistan to oust the Taliban and wipe out its support for al Qaeda, the Afghan civil service is still incapable of delivering basic services to the Afghan people.
---