François Hollande – no more 'Mr. Pudding'?
Style – more than policy differences on austerity – separated Socialist winner François Hollande from Nicolas Sarkozy in the French presidential elections. France may have simply preferred Hollande, dubbed 'Mr. Pudding,' over bombastic Sarkozy. But Hollande may not be so soft.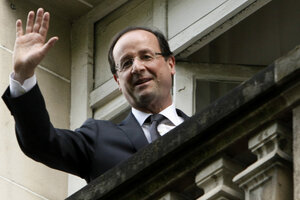 Michel Spingler/AP
The French presidential election, which ended in a rather close victory for Socialist François Hollande over Nicolas Sarkozy, was fought largely on personal terms. Despite rhetorical flourishes during the campaign and what may appear to have been a sharp divergence over Europe's austerity path, the ideological differences between these two center-leaning candidates amount to only a few degrees.
Perhaps a general desire for change is one key to understanding what happened: The only way to effect regime change in France in modern times is at the very top, through the presidential election. Perhaps it was time for alternance: the Socialists hadn't been in power since 1995.
It has been difficult for Americans to understand the extreme désamour that developed between the French public and Mr. Sarkozy almost from day one of his presidency. The late Raymond Aron, the leading French strategic thinker of the post-war period, once described France as "a conservative country that dreams of revolution."
That Sarkozy celebrated the night of his victory in 2007 at a posh Paris restaurant full of his rich friends and then sojourned on a yacht owned by a French millionaire, left an everlasting bad taste with the French people. (Here was the revolutionary side of the French psyche kicking in.)
The conservative side of the French psyche is aptly captured by the contemporary French historian Jacques Revel:
---