What Mitt Romney should be saying to women voters this Mother's Day
Polls show Mitt Romney trailing President Obama among women voters. This Mother's Day, to close the gender gap Romney will need to do more than flag Obama's failed economic record. He needs to push policies that appeal to women, like more workplace flexibility and better child care.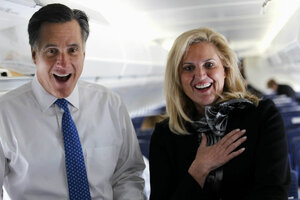 Gerald Herbert/AP
Mitt Romney knows he has to do better in attracting women voters. After controversial comments by GOP leaders about contraception and Planned Parenthood during the heat of the primary season, polls show that Mr. Romney's standing among women has been impacted and that he trails President Obama in critical swing states with female voters by a 2 to 1 margin (according to a a recent USA Today/Gallup survey).
Romney has responded to this deficit by holding recent campaign events at female-owned small businesses and by attacking Mr. Obama's economic policies, claiming they are not good for women. But this Mother's Day gives Romney an opportunity to make real progress in closing the gender gap with Obama through two important areas of emphasis.
First, Romney should continue to criticize Obama's record on economic issues. Pocketbook issues matter to women. The Pew Research Center reported in 2008 that by an almost 2 to 1 margin, women share that they make the majority of the budget decisions in their household. The Bureau of Labor Statistics has revealed that nearly 40 percent of working women now out-earn their husbands.
Romney should tailor his general criticisms of Obama – his handling of the economy, lack of sufficient job creation, and deficit-expanding fiscal and health-care policies – to appeal specifically to women. Add to it the impact of high gas prices on those who frequently drive children to activities and Romney has a story to tell about the president's failed economic approach that should particularly resonate with women voters.
---