Is Facebook destroying our capacity for meaningful relationships?
While investors follow Facebook stock prices, it is we the Facebook users who will shape this new global social fabric. We must reinvest in self-reflection and in-person relationship building. We must use Facebook in ways that bring us closer together, not tear us further apart.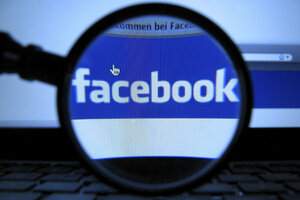 Joerg Koch, dapd/AP/file
"Did you join Facebook yet?" It was a question I fielded several times in 2004, the summer before I began college, as the fledgling social network was expanding beyond a handful of elite colleges.
I felt unsure about joining, at first: Isn't college about making real relationships? Yet as Facebook began influencing my life, and my communities at home and abroad, I came to see its value in a new light.
There was the summer I spent in Tanzania developing a teenage health program with local high school students like Glory, a brilliant but financially poor young woman. Since then, via online fundraising advertised on Facebook, my friends have funded Glory's college education, thereby transforming her life and enabling her to raise herself out of poverty. She continues to keep us regularly updated through her Facebook posts.
When I moved to Bandung, Indonesia, to work with a local drug rehabilitation center, I saw Facebook empowering its entire cadre of peer support counselors, who spent hours on the site, via desktop or hand-held device. Facebook helped them track transient clients – young drug users or sex workers who lived with, or were at risk of contracting, HIV – and their virtual connectivity resulted in lives saved off-line.
When Facebook made its much-discussed initial public offering recently, it had engaged almost 1 billion members in less than a decade. It isn't far-fetched to project that Facebook will soon become a standard means for interpersonal interaction.
---