Johnny Depp will have a hard time saving American Indians from Paul Ryan's budget
Johnny Depp plans to remake Tonto as an equal in the film 'The Lone Ranger.' Equality is harder to find in the real world. Paul Ryan's budget would drastically cut health services for American Indians – a population with some of the highest poverty, disease, and mortality rates in the world.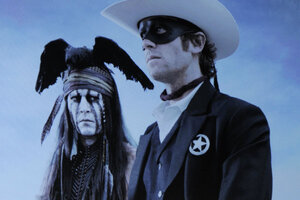 Chris Pizzello/AP
Johnny Depp is an Indian now – a real one. While filming his new role as Tonto in the upcoming "Lone Ranger" re-make, Mr. Depp was formally adopted by Comanche matriarch LaDonna Harris.
Depp, now filming the Lone Ranger movie in Navajo Nation in the southwestern United States, wants to reinvent the relationship between the crime-fighting Lone Ranger and his iconic sidekick, Tonto, who he says Hollywood has always seen "as the second class...citizen." Depp says he "wants to take the way Indians were treated throughout the history of cinema, and turn it on its head."
As hard as that may be, casting Indians as equals will be easier to do onscreen than off.
For example, Republican Paul Ryan's proposed budget before Congress would deal a major blow to the health-care services of Indian country, which already faces some of the highest rates of diabetes and infant mortality in the US – and the world. Taking away the few health services these Americans have will only make it harder to address the deeper issues American Indian populations face.
Specifically, the Ryan budget would eliminate all of the proposed 2013 increases and slash funding for the Indian Health Service (IHS) by 5.4 percent, requiring the IHS to close hospitals and clinics, reduce medical care referrals, and lay off employees. The IHS, together with the Tribes and a few urban Indian programs, provides the primary health care system for American Indians and Alaska Natives.
---