Supreme Court indecency ruling in FCC vs. Fox TV – does it really matter?
The Supreme Court case pits the FCC against nudity and profanity on broadcast TV. But the truth is, we've been looking at the bottom for so long, looking at a naked bottom won't make a difference. Only one ruling matters, and that's the ruling every parent makes at home.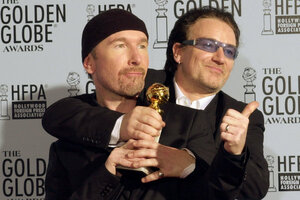 Reed Saxon/AP/File
Some time soon, the Supreme Court will hand down its decision in a case that pits the Federal Communications Commission (FCC) against Fox TV. Really, it's the FCC against the use of nudity and profanity on broadcast television.
While the court deliberated, so did I. Originally, I was planning to prepare this commentary as a reaction to the ruling right after the momentous decision came out. But the more I deliberated, the more I realized that this decision is about as momentous as whether to have hot or cold cereal for breakfast. The court could use a coin to decide this one, so little difference will it make.
Only one ruling matters in this case, and that's the ruling every parent makes at home.
First, some context. The Court ruled in 1978 that the FCC could fine broadcasters for displays of nudity or profanity during prime time. But fines were rarely doled out. Then in 2003, Bono said the "f-word" on a live broadcast of the Golden Globes. The FCC started cracking down, and a case was born. Fox and other broadcasters are asking the court to overturn the 1978 ruling, arguing that in an era of freer regulation on cable, the law is outdated.
So what's really at stake? The government believes there has to be a safe haven maintained so parents can put their kids in front of the TV at certain hours, turn to a specific channel, and not worry. Has anyone in the government watched TV lately?
---