Sen. Collins: Republicans and Democrats can agree on Myanmar (Burma)
In Myanmar (Burma) the tide of democracy is growing. But Aung San Suu Kyi rightly cautions foreign investors that the country still has no 'rule of law.' The US must continue to support those working to further human rights and civil society while carefully watching Burma's generals.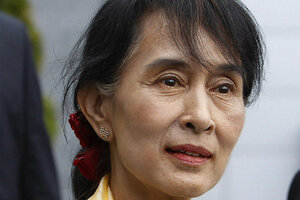 Julien Behal/PA Wire/AP
Landing in Naw Pyi Daw, Myanmar's (Burma's) capital, last month, I realized that I had tumbled down the rabbit hole into an altered reality, but one that, unlike Alice's, carried little wonder.
Our delegation arrived at a huge gleaming new airport, but ours was the only airplane there. I saw massive new buildings, each with perfectly manicured lawns tended by a small army of groundskeepers, but I saw no residents or other workers. I drove on 12-lane highways where I saw only a handful of cars.
I saw several grand ministry buildings, parliament, and a gilded presidential palace, in a country where a third of the people live in poverty. And I met with a set of government leaders who each delivered the same set of talking points that have not progressed beyond this summer's surprising initial reforms toward more freedom for the Burmese people. It was difficult to judge what was real and what was illusory.
I went to Burma in advance of a trip to the World Economic Forum in Bangkok May 30 - June 1, where I had been invited to speak on regional security in Southeast Asia. I went to meet with the country's leadership, including the newly elected parliamentarian, Nobel Laureate Aung San Suu Kyi, to discover if Burma's tentative moves toward democracy were genuine and lasting or self-interested and reversible. I wanted to find out what effect these changes would have on civil society and to assess whether the leaders would continue to pursue reforms.
What I found were Burmese generals, some now out of uniform, taking incremental steps toward reform and a society left to figure out for itself how to take advantage of the recent easing of repression.
---