US must kill and capture terrorist leaders as soon as possible. It works.
Killing or capturing leaders of terrorist groups increases the chances these groups will collapse. In spite of what some politicians see as short-term political and diplomatic costs, my findings suggest targeted killings are an effective counterterrorism strategy in the long run.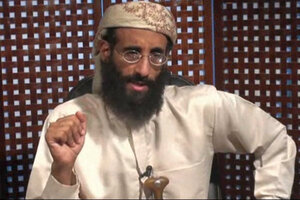 SITE Intelligence Group/AP/File
The United States made killing and capturing terrorist leaders a key focus of its counterterrorism strategy following the terrorist attacks on September 11, 2001. In addition to getting Osama bin Laden, President Obama's number one counterterrorism priority upon taking office, his administration has netted scores of other high-profile leaders, including Al Qaeda leaders Anwar al-Awlaki in Yemen and Abu Yahya al-Libi in Pakistan.
The latter successes are direct results of a greatly expanded drone program. According to the New America Foundation, Mr. Obama has launched more than six times as many drone strikes in Pakistan than his predecessor.
But does this "leadership decapitation" work? Does it enhance the security of the states that use it?
Debate over this controversial tactic is growing and currently playing out on the national stage, with critics of these targeted killings just as vocal as supporters.
Critics argue that targeted killings do little to prevent future attacks. Some claim that they may increase recruitment, harden terrorists' resolve, and trigger retaliatory attacks. Still others highlight the moral and ethical concerns of collateral damage and killing terrorist leaders without due process, especially American citizens such as al-Awlaki. The Obama administration has also recently come under fire after details of its approval process for drone strikes leaked to the press. Some have argued the process is too informal and lacking in oversight.
---