Why it won't be a problem if Marissa Mayer stumbles
Yahoo! Inc. appointing Marissa Mayer as its new CEO is being hailed as a victory for women in technology, women business leaders, and even for mothers in the workplace. But it is not a signal that parity has been reached.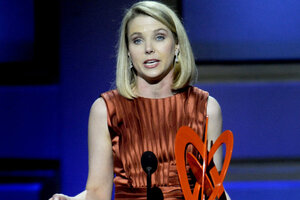 Henny Ray Abrams/AP/File
"Get in a bit over your head. That's how you grow and learn and stretch yourself."
Marissa Mayer sure knows how to live her own 2009 quote. As the new CEO of Yahoo! and the holder of two degrees in computer science from Stanford, Ms. Mayer joins Xerox's Ursula Burns and IBM's Virginia Rometty as a top woman in technology with engineering degrees. Add in Meg Whitman at Hewlett-Packard, and there is now a quartet of women CEOs at technology firms.
This is a critical number. After four, do we even count anymore? Who is the fifth to do anything?
But this victory for Mayer and women in technology is not a signal that parity has been reached. There is still a lot of work to be done to ensure the US is attracting, retaining, and promoting women in technical jobs. And until we do this vital work, research shows we will continue to have a problem with the number of women working in technical jobs.
---