'Abraham Lincoln: Vampire Hunter' denies origin and legacy of slavery
The film wishes away responsibility for America's most horrific events, because no one is to blame for these tragedies but vampires. America should examine its appetite for this fantasy, when Hollywood transforms the most eloquent statesmen into an axe-wielding action hero.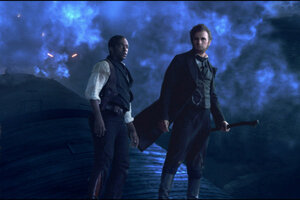 Alan Markfield/20th Century Fox/AP/File
Reviews of the would-be summer blockbuster "Abraham Lincoln: Vampire Hunter" have been as chilly as a vampire's embrace. While most criticisms focus on the film's humorless, disjointed script, its over-the-top computer-generated effects, its patchy production values, and its fetishized carnage, there has been little discussion of the film's narrative substance.
At first glance, the film's central premise – that Honest Abe was actually our nation's foremost slayer of the undead – appears merely silly, harmless, maybe even clever. Certainly Seth Grahame-Smith's novel and script weave fact and fantasy together in inventive and entertaining ways. But on closer inspection, the film's themes are more deeply disturbing than its slow-mo decapitations and blood-soaked action sequences.
At its heart, the film wishes away responsibility for some of America's most tragic and horrific chapters – the frontier slaughter of Native Americans, the abomination of slavery, the anguished violence of the Civil War. In the alternative reality created by the filmmakers, no one is to blame for these horrors – at least no human is to blame – because vampires actually orchestrated all of these bloody episodes and more.
In this imaginative reworking of history, the Civil War isn't about abolishing slavery or preserving the union or even states' rights. Rather, it is Lincoln's heroic effort to prevent slave-trading vampires from turning America into an empire of the undead. And when the 16th president signs the Emancipation Proclamation, it is not so much to set an enslaved people free as it is to deprive the Confederate vampire soldiers of their sustenance, the blood of their captives. Slavery is only a secondary injustice here, a convenient, if unfortunate, means to the vampires' more sinister ends.
---