Wisconsin shooting and its violent echo around the world
It is feeling pretty rough out there: the Wisconsin and Colorado massacres, a civil war in Syria, killings in the Sinai. These violent events call leaders and individuals to acts of moral courage, and to remember what we have in common with each other.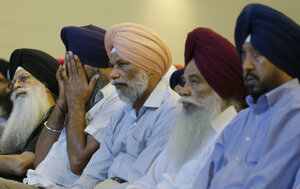 Jeffrey Phelps/AP
Gun massacres in a Colorado cinema, a Sikh temple in Wisconsin, a border post in Egypt and a crowded church in Nigeria. Suicide bombings in Kabul and Yemen. Civil war pounding the capital and other key cities across Syria.
It is feeling pretty rough out there.
But let's not forget the continuum of progress in civilization, or as Martin Luther King Jr. repeated: "The arc of the moral universe is long but it bends toward justice."
While these events reflect vastly disparate causes and contexts, they all point urgently to a need for leaders and individuals to walk along that arc – by showing greater moral courage and compassion in two distinct yet interlacing spheres of thought and action.
The first is policy. The massacres in Colorado and Wisconsin, which unfolded just two weeks apart, elicited empathy from political leaders in the United States and a brief pause in an otherwise personally bitter campaign season, but neither attack has prompted either President Barack Obama or his Republican challenger Mitt Romney to renew a national discussion on guns and violence.
---